Today we will answer the question, " What is the greatest love of all? It is the Love of Jesus. The scriptures have much to tell us about this awesome love; the Lord Jesus Christ's love for all of his redeemed. All The saints (the people of God) know the love of Christ in a general way. For instance we see many verses that tell of his awesome " general" love. Such scriptures as: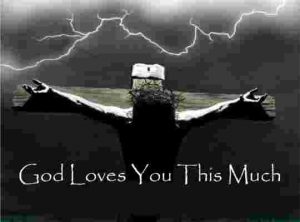 2 Cor 13:14 – The grace of the Lord Jesus Christ, and the love of God, and the communion of the Holy Ghost, be with you all. Amen.
All three of the Trinity are mentioned here; the Father, the Son and The Holy Spirit are mentions in this verse. The verse speaks of the grace we receive from our lord Jesus Christ, It speaks about the love of God our father and and it speaks of The sweet fellowship we have in the Holy Spirit.
Eph 3: 17 to 20 – you, being rooted and grounded in love, 18 may be able to comprehend with all the saints what is the width and length and depth and height— 19 to know the love of Christ which passes knowledge; that you may be filled with all the fullness of God.
The above scriptures testify of Christ's love for ALL, ( collectively).
However, today I'm going to write a post concerning scriptures that speak about the personal and individual love of the lord Jesus Christ for his brothers and sisters. Remember, Jesus speaks to us " personally" and individually; his love and friendship is personal. Jesus said ( speaking of Himself as the Good Shepherd), "the sheep hear his voice; and he calls his own sheep by name and leads them out", (John 10:3). The Son of God will have sweet fellowship with each one of us individually, and calls us by our name. He knows your name! He knows where you live! He knows your telephone number. Jesus knows your address.
I want to tell you today the Jesus knows all about you and he loves you no matter what your faults or failures are. The wonderful truth is that the Lord loves us INDIVIDUALLY and so desires to have " PERSONAL " friendship with each one of us……
.
Jesus Love for Paul
Paul the apostle often spoke about the love of Christ; the love that he and Jesus shared. In Galatians 2:20 he spoke about the love that Jesus had for him personally. Paul said…..in Gal 2:20 –
I am crucified with Christ: nevertheless I live; yet not I, but Christ liveth in me: and the life which I now live in the flesh I live by the faith of the Son of God, who loved me, and gave himself for me.
……………………., who loved me, and gave himself for me……
Paul was saying, Jesus didn't just love the whole world generally. He loved Him personally!
Paul was thrilled and so happy with the thought that the Son of God Jesus, loved him personally and died for him personally.
Today who is ever reading this blog on this website, I'm going to ask you a question……
Has it touched your heart and your emotions deep within you that Jesus loves you and gave his life for you and poured out his blood for you because he loves you so very much?
The apostle Paul had " tasted" the sweet love of Christ and the power of that love made him want to KNOW that intimate love of Jesus more and more. The Apostle Paul have one consuming passion in his life. That one consuming passion was to know Jesus more and more and deeper and deeper in an ever increasing love relationship. He wrote these words in the book of Philippians chapter 3 vs 8:
Phil 3:8 – Yes doubtless, and I count all things but loss for the excellency of the knowledge of Christ Jesus my Lord: for whom I have suffered the loss of all things, and do count them but dung, that I may win Christ.
Paul loved Jesus so much that he considered everything to be rubbish compared with the knowledge of knowing Jesus.
Jesus and Mary Magdalene
the scriptures have much to say about the tender love there was between our lord Jesus and Mary Magdalene. This girl had previously been a slave to sin and satan and our Lord had cast seven demons from her. After our Lord's shameful and horrific death on the cross, she was one of the first that Jesus greeted on the morning of his resurrection.
John chapter 20 gives us the account of how Mary came weeping to the tomb on the morning of Jesus resurrection. We read, (v 13) how the angels guarding the tomb of our now risen saviour had asked her "Dear woman, why are you crying?" Mary replied, "Because they have taken away my Lord,and I don't know where they have laid him." Then in verse 14 we read that as she turned to leave she saw someone standing there. It was Jesus, but she didn't recognize him. Jesus asked her, (v15) "Dear woman, why are you crying? Who
are you looking for?" She thought he was the gardener. "Sir," she said, "if you have taken him away, tell me where you have put him,
Jesus was speaking to her very tenderly and clearly. Mary had heard the beautiful tones and ( no doubt) the very distinct cadence of Jesus voice many times, but up to this point she still did not recognise him. Then Jesus spoke one word! Her name – "Mary". Her heart must have pounded in her chest, her spirits soared and her joy knew no bounds. Not only Mary, but every one of us can have the experience of The Lord Jesus coming to us and speaking our name and speaking His heart to us! Yes, The Son of God will have sweet fellowship with each one of us individually, and calls us by our name. He knows your name, (John 10:3)!
Jesus Was Proud Of Antipas
Little is known about this man whose name was Antipas. However. Jesus recognised him and commended him openly in the book of Revelation. Antipas lives in Pergamos, and this city was a place of great wickedness. At that time in history, our lord said that Satan had his throne " headquarters" there. The name " Antipas" means ' against all'. Antipas opposed all the godless, unbelieving. demonic behaviour and antichrist doctrines that were flooding pergamos! He was killed for his faith. Jesus loved him so much and confessed his name before the Father, and before all.
The Lord said to the church in Pergamos:
Rev 2:13 – know where you dwell, where Satan's throne is; and you hold fast My name and have not denied My faith, even in the days of Antipas, My witness, My faithful one, who was killed among you, where Satan dwells

RETURN TO – Bible Teaching Articles – Look up Bible Study Topics
OR RETURN TO HOME PAGE – Jesus Christ Is the Way, The Truth and The Life
OR CONTACT ME WITH YOU QUESTIONS, COMMENTS ETC. AT – Contact Marcus.
I would love to hear from you!