The news of the redemption that Our Lord Jesus accomplished for us on the rugged, cruel cross, is to the ear,  more lovely to than every music in the world.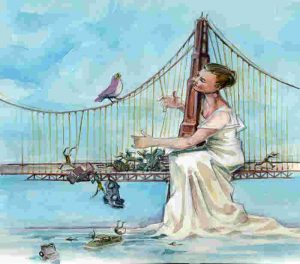 The redemption Jesus made for us  (buying us out of sin's slave-market) is nothing less God HIMSELF coming to take the punishment for our sins. These are the sins that we committed against Him. 
 ==============
2 Cor 5:18, 19 – But all things are of God, who reconciled us to himself through Christ, and gave unto us the ministry of reconciliation; 19 to wit, that God was in Christ reconciling the world unto himself, not reckoning unto them their trespasses, and having committed unto us the word of reconciliation.
==============
The redemption of Christ is God bearing that with which man has sinned against Him. Jesus of Nazareth id God!  If Jesus of Nazareth was not God, He would not be qualified to bear our sins. He is the very God whom we sinned against.
Our God has come down to earth personally and borne our sins. Today, it is God rather than man who has borne our sins. Thank God that He Himself has come to the world to bear our sins. This is the work of the Lord Jesus on the cross.
Watchman Nee wrote these words in his publication, 'The Gospel of God (1)"…
"The Lord Jesus is not a third party; He is the first party. Because He is God, He is qualified to be crucified on the cross. Because He is man, He can die on the cross on our behalf. We must distinguish between these two statements clearly. He is qualified to be crucified because He is God, and He is able to be crucified because He is man. He is the opposite party; He has stepped over to man's side to suffer punishment. God has become a man. He has come among man, joined Himself to man, taken up man's burden, and borne all his sins. If redemption is to be righteous, Jesus of Nazareth must be God. If Jesus of Nazareth is not God, redemption is not righteous. Every time I look at the cross, I say within myself, "This is God." If He is not God, His death becomes unrighteous and it cannot save us, for He is but a third party. But thank and praise the Lord, He is the party opposite us. That is why I made the statement that only two parties are able to deal with our sins. One is we ourselves, in which case we have to die ourselves. The other party is the God whom we have sinned against, in which case He dies for us. Other than these two parties, no third party has the right or authority to deal with our sins."
TO RETURN TO LIST OF BLOGS – BLOG LIST
TO GO TO – INSPIRING VIDEO TEACHINGS ON THE PERSON OF JESUS CHRIST
TO RETURN TO HOME PAGE –  HOME