The Word of God tells how we can be really free and have victory in our lives.  The victory is in Jesus and he sets us gloriously free in every circumstance.
Freedom Through Christ's Victory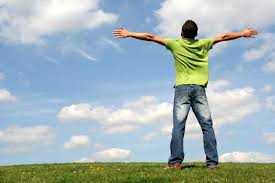 2 Cor 3: 17 – Now the Lord is that Spirit: and where the Spirit of the Lord is, there is liberty.
Praise God!  Together we will look at things that we are freed from:
Liberty from Condemnation
Firstly, we are freed from condemnation:
Rom 8:1 – There is therefore now no condemnation to them which are in Christ Jesus, who walk not after the flesh, but after the Spirit.
Now that God has placed us 'In Christ; our general direction of life – is towards God and heavenly things. (Walking after the Spirit). That doesn't mean that we never fail; that doesn't mean we are perfect. However, when we fall we confess our failures and sins and move forward. 1 John 1:9 tells us that as we openly agree with God and confess our faults, sins and failures – God not only forgives us, but also washes (purifies our natures).  If we confess our sins He is faithful and just to forgive us our sins, and to cleanse us from all iniquity.
Liberty from The Law of Sin
Before we came to Christ, we had a LAW that was continually dragging us down to sin.   Now, as we abide in Christ, we can experience a new law. This law actually 'wants' to serve and please the Lord.
Romans 8:2 – For the law of the Spirit of life in Christ Jesus hath made me free from the law of sin and death.
Under the Old Covenant we were continually slaves to sin – ALWAYS pulling us down. But IN Jesus we are under a new arrangement! This is spoken about in Hebrews 10:9
Then said I, Lo, I come (in the volume of the book it is written of me,) to do thy will, O God. He taketh away the first, that he may establish the second.
The first covenant under Moses law (the Ten Commandments), was based on man's performance to keep the laws of God. This was something that NO man has ever managed to do!
Jesus came to establish a totally NEW Covenant. He came to save mankind from sin – and to place His very own Spirit and life into the hearts of saved men and women. He came to place a burning a love in the hearts of men and women for God and His will. Yes, God had promised long before Jesus came that one-day He would do this great thing!
Freed from Ladders of Religion:
All the religions of this world are dead and drag people into lives of striving, bondage and depression.   All the religions of this world have a ladder up to God that poor tired sinners are made to climb. They have a 'god' that is 'whipping' them with demands to climb that ladder. Christ who is totally OUTSIDE of all religion, has come down the ladder to us, in order to rescue us and actually carry us in his arms up the ladder to God.  Jesus has come and offer sinful men and women the opportunity to be 'born again' all over again.   (John 3:3).
This means to KNOW God intimately. Like the song 'To know Him is to love him' this wonderful friendship with God is open to us through Jesus! A love relationship that causes us to be faithful in our personal lives – to our faithful loving God.
Freedom from The Fear of Death
Praise God even in this life the Spirit of God can keep us in health.
Rom 8:11 – But if the Spirit of him that raised up Jesus from the dead dwell in you, he that raised up Christ from the dead shall also quicken your mortal bodies by His Spirit that dwelleth in you.
One day however, we will rise with Glorious beautiful bodies! These will be Eternal, incorruptible bodies that the Lord Jesus will give us at His return.
Phil 3:21 – Who (Christ) shall change our vile body, that it may be fashioned like unto his glorious body, according to the working whereby he is able even to subdue all things unto himself.
1 Cor 15:51, 52 -Behold, I show you a mystery; We shall not all sleep, but we shall all be changed, In a moment, in the twinkling of an eye, at the last trump: for the trumpet shall sound, and the dead shall be raised incorruptible, and we shall be changed.
FREEDOM from FEAR and Depression
2 Timothy 1:7 – For God has not given us the spirit of fear; but of power, and of love, and of a sound mind.
BEING TRANSFORMED
As we look to Jesus beholding (and reflecting) the glory of the Lord as in a mirror – we are being transformed into the same (His) image .. from GLORY to GLORY even as from the Lord the Spirit. (2 Cor 3:18)
Roman 8:29 tells us God's GOAL is to make us JUST LIKE JESUS. What a privilege! The next verse assures as that His goal is to glorify us!
Rom 8:29, 30 – For whom he did foreknow, he also did predestinate to be conformed to the image of his Son, that he might be the firstborn among many brethren. 30 Moreover, whom he did predestinate, them he also called: and whom he called, them he also justified: and whom he justified, them he also glorified.
We have an AWESOME destiny planned; may God bless us all together as we move forward to that goal.
Once we have the veil of unbelief removed by turning to the Lord, we with 'unveiled face' behold the gory of the Lord, and a process of transformation commences in which He begins to infuse and saturate us with His own nature. This not only includes what and who He is but also consists of the victories He has accomplished for us! We are actually being transformed 'organically' to have His own divine nature, (2 peter 1:4). This transformation very largely consists of the renewing of our minds, (Rom 12:2).
Romans 8 tells us that God's work of grace in our lives actually began with His plan for us before the worlds were made and will END with glorification (Rom 8: 29-30).
Romans 8 also informs us that everything (the whole creation) eagerly expects and looks forward to the day when the Sons of God will be revealed. This will be accomplished at the Lord's return (Phil 3:21). At this time we will appear with him in glory, (Col 3:4).
The new man being renewed
Colossians 3:10 informs us that as a result of our identification with Christ, we have
put on the new man, which is being renewed unto full knowledge according to the image of Him who created (us).
God's renewal as stated above, takes place very largely in our mind. Our mind's renewal influences our emotion to love the Lord. This love for the Lord will strengthen our will to choose for the Lord. (This process can be seen and traced by carefully reading and studying Colossians 1; 9)
AMEN.
RETURN TO – Bible Teaching Articles – Look up Bible Study Topics
OR RETURN TO HOME PAGE – Jesus Christ Is the Way, The Truth and The Life
OR CONTACT ME WITH YOU QUESTIONS, COMMENTS ETC.   AT  – Contact Marcus.
I would love to hear from you!