HELLO EVERYONE.  Welcome to my website. This website proclaims that Jesus Christ is The  Way,  The  Truth and The Life; here you will hear testimonies of Him  and his wonderful FREE saving grace and healing life.  The scriptures teach us clearly that OUR SALVATION IS A FREE GIFT.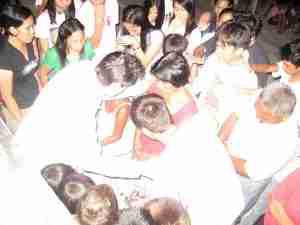 It is a wonderful free gift that has been bought for us by Jesus precious blood.   The New Testament book of  Ephesians tells us that….
" For by grace you have been saved through faith, and this not of yourselves; it is the gift of God.  Not of works that no one should boast"
(Ephesians 2: 8, 9 – New Testament Recovery Version )
A TRUSTED NEW TESTAMENT TRANSLATION
Unless otherwise stated, in this website I will be using The New Testament Recovery Version  for New Testament scripture references. 
In my opinion The Recovery Version is a highly doctrinally accurate translation.   This New Testament translation is conservative and reliable translation similar in its style and translation to versions such as the NASB and the ESV.  It  seeks to present a " literal" translation of the original Greek text.  I highly recommend it and often use it myself!
This Recovery Version of the bible ( along with an extensive number of excellent Christian resources) may be obtained from The following  Christian Resource Centre.
A  Little About Me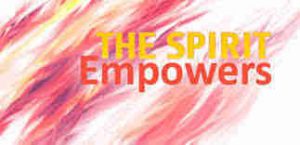 My name is Marcus Philpott.   I live in Norwich UK with my wife Lesley.  I am an older man, 76 years old; however I praise God he has kept me strong and youthful and given me strength to travel and proclaim Christ in Europe, The UK and in missions to the Philippines .  I have sought to master the Italian and Spanish languages so that I can reach Italy with the gospel, as well as much of Latin America. 
My Call from God and Baptism In The Holy Spirit
However, my REAL CALLING in life is as a preacher of the wonderful gospel of the Lord Jesus Christ; proclaiming the loveliness and majesty of His captivating Person and all he has done for us!   His call on my life and the powerful baptism in the Holy Spirit I received from him as a young man  has given me the preaching and teaching gift.   As a Christian bible teacher I have travel to poor regions of the world where I teach without charge and also take love gifts to poor, sick and struggling people.
Sent To A Beautiful People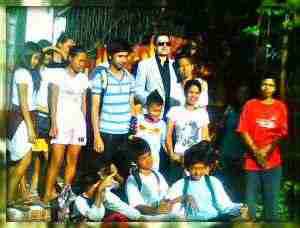 Over the past 11 years the Lord Jesus has given me the opportunity to proclaim that Jesus Christ is The Way, The  Truth and The Life in the Philippine Islands.    God has sent  me to a beautiful people who cheerfully struggle against often great hardships and poverty.  One such very poverty stricken region was Payatas.  Also, not long ago I held evangelistic and healing meetings in Almagro Island which is of the West Coast of Samar.  A wonderful company of young people from "Faith Tabernacle", Calbayog,  traveled  with me to the Island to share in the ministry. They all faithfully did the work of intercessory prayer each day and also performed  AWESOME  Christian dance and drama each night before I preached.  Click the LINKS BELOW to go and see some of their dancing and singing.
YOUNG PEOPLE DANCING AND SINGING IN ALMAGRO ISLAND
MORE DANCE AND SONG FROM THE YOUTH 2 –  (SONG: Cant Live A Day Without You)
Preaching The Cross of Christ In The Philippines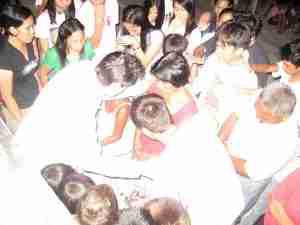 In the Philippines, I preached the Wonderful Jesus Christ and His cross. As I preached the cross of Christ and the rich full salvation Jesus has to offer, night after night men , women and children with arms outstretched to heaven prayed for salvation and healing from the Lord Jesus.  They also sought baptism in the Holy Spirit.
PROCLAIMING CHRIST IN ALMAGRO – HIS MIGHTY VICTORY OVER SIN, DISEASE, AND THE GRAVE
BibleTruthsRevealed  – Content
The following is a breakdown of this website's current content:
=====================================================
TO  – COMPLETE LIST OF SITE BLOGS
TO – CHRISTIAN BOOK AND RESOURCES STORE