Only Spirit gives life!   Your peace can not come from what your able to do for God by your human "fleshly" efforts,    Nor can you rely on how you are  feeling. 
Peace Can only Come From Being In Christ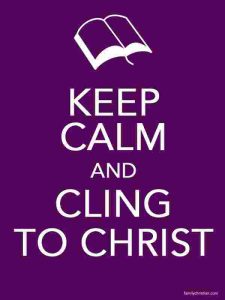 True peace can only come from being "in Christ", and knowing that you are  SECURE in him.  It is very possible to work hard to get the victory over every secret sin and still be far from God.   You can get control over every habit, tame your temper or your bad thoughts, and throw away every way of speaking ungodly and still be lost. You can appear irreproachable. But you can still be building on the wrong foundation. Your peace, and your acceptance with God can only come from your being justified by Christ.
I lived that kind of life sometimes in the past. I knew in my heart that I was saved by grace through faith; I knew that my good works could not save me. Yet, like many others I expected God to bless me based on my behavior.
Don't Try To Earn  God's Acceptance and Love
I used to spend the week thinking I could be worthy of God's peace only if I had not done anything wrong. I looked back and saw that I had been kind to my wife, that I persevered in prayer and in the Word of God … and I said: "Thank you, Lord, for your peace". And I kept thanking Him – until the next day, when I was failing God ir sinning again! My peace came and went according to my goodness – or some of my "malice". Any kind of mistake brought me despair and loss of that peace.
Maybe you too went through this struggle. You desire so much to please the Lord and wanted him to be pleased with you. But the problem was you looked too much at your righteousness instead of looking at what Jesus has already done for you. You were judging yourself, your salvation, and your peace, based on your ability to behave well.
You thought that only if you pray fervently, read the sacred Scriptures for hours, do everything that is possible for others, only then can God smile at you. You thought, "If I can only be fearful enough of God, or feed the poor and the hungry, or be diligent, or avoid all kinds of evil – only then can I have peace!"
But, beloved, you can not make yourself righteous and justified. You can not know the peace of God through Jesus Christ until you understand what he has accomplished for you. You can only know that you are right in God's sight through the blood shed by Jesus. That shed blood is why you are accepted by Him.
God Invites Us to Approach Him Boldly
We must pursue our peace in a very different way. Peace only comes by entering into the truth of what Christ has done for us. The Word says: "And the peace of Christ, to which you have been called to be one body, reign in your hearts, and be grateful", (Colossians 3:15). Jesus will always continue to justify us until we meet Him in eternity!
We Know We Are Accepted In Him Because He Invites Us to Come With Courage to His Throne.  The Word of God clearly tells us that God invites us with boldness to approach his throne so that we can find help and mercy!
Heb 4: 14 to end – Seeing then that we have a great high priest, that is passed into the heavens, Jesus the Son of God, let us hold fast our profession. 15 For we have not an high priest which cannot be touched with the feeling of our infirmities; but was in all points tempted like as we are, yet without sin. 16 Let us therefore come boldly unto the throne of grace, that we may obtain mercy, and find grace to help in time of need.
God Is NOT Angry With You
God is NOT angry wit you! Why would God invite you to His throne if He were angry with you? You can condemn yourself because you had a bad day, you stumbled or you did something that grieved the Holy Spirit? What do you have to do in those moments? You must run to the Lord! You must say to him: "Jesus, I am repentant in my heart, and I know that You can erase all my iniquities".
The Father has not turned his back on you. Yet too many Christians live as if they believed that He did. They live on the limit all the time, believing they are saved one day and lost the following day.
Many Christians live in highs and lows, first hot and then cold. You can never tell where they are because they do not know either. They do not have this foundation: "I am justified in the eyes of God, for the blood of the Lamb, and not only have I been made righteous to His eyes, I am also accepted as a saint in the eyes of the Father, I have a right to enter His presence! "
This is what the parable of the prodigal son consists of. In Luke's gospel chapter 15 we read the parable of the prodigal son. The son returned homw in a terrible condition after spending all his money on prostitutes and alcohol. However when he arrived home, not only was he forgiven,hugged and kissed by his father. He was also given the finest gown and ring and invited to come into the house and sit at his father's table to eat and party. This is a truthful image of justification – one in which we are not left to strive to please God with our abilities, to try to enter His grace.
Satan is also now accusing you before God of sins of all kinds. Infidelity, lies, dishonesty, failings. He has made a long list of every single mistake you've made recently.
Rev 12:10 – the accuser of our brethren – which accused them before our God day and night.
Satan says to God: "How can this person be saved, if I have just seen him do what he has done? I want justice! You can not be a just God if you let him go free like that!" Satan is correct in many of his accusations! Sometimes you were wrong. Some of your actions were not for the glory of God. You did things that are not of Christ. You are not up to your testimony.
But our judge does not let himself be impressed by Satan's slnder!. I can imagine my Heavenly Father in Heaven saying to Satan: "I do not need your accusations, father of lies! You are wasting your time, there will be no trial, you are accusing someone whom I have already acquitted. Now leave! "
God Is " For Us"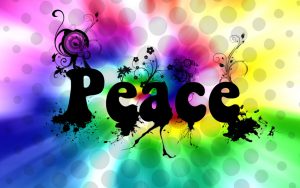 We must not be afraid of our Judge. He is for us! Furthemore, he has erased all our transgressions:
Isaiah 38:17 – Behold, it was for my peace that I had great bitterness: But thou hast in love to my soul delivered it from the pit of corruption; For thou hast cast all my sins behind thy back.
Micah 7:19 – He will again have compassion upon us; he will tread our iniquities under foot; and thou wilt cast all their sins into the depths of the sea.
Isaiah 43:25 – I, even I, am he that blotteth out thy transgressions for mine own sake; and I will not remember thy sins.
I see the King of Glory before all the accusers, proclaiming: "Who will accuse the elect of God? God is the one who justifies them" (Romans 8:33).
Many of you believers who are reading this message are living beneath your privileges. You are carrying loads of guilt and worry that you have no need to bear. God wants you to know that you are ready for heaven – you are ready for glory. And He wants you to appropriate His peace right now!
In 2 Peter 3, we read a terrible warning concerning the final destruction of the world, probably a nuclear holocaust. In it, everything will be dissolved. Yet in the midst of the most troubled times in this world, we are called to live in the peace of the Lord:
2 Peter 3:11, 12 to 14 – "All these things must dissolve … the inflamed elements will melt ..Therefore, dear ones, waiting for these things, make sure to be found by him immaculate and irreproachable, in peace."
The Wounds of Jesus Speak Of Peace
On the day we stand before Him, we will see the scars on His hands – and we will understand that the Source of our justification has done more for us than we could during a lifetime of penance. God wants us to take possession of that blessing now. He wants us to live in peace – looking at Jesus' wounds to be able to say: "He paid for my sins, devil! You can not point to what I've done." Look at the signs of the nails – look, it is He who defends the my cause, I am justified in the eyes of God! "
If you are still feeling condemned please pray, "Lord, I want to have Your peace at all costs. I do not want to hear the devil's lies anymore, I know that my salvation does not depend on my efforts. Even if I cried a river of tears, or if I tried to be perfect according to Your law I would still be lost. I would not have gained anything! No, Jesus – you defend my cause, I rest in what You have done for me ". AMEN.
Can you say this by faith right now? "Lord, I do not want to try to earn Your grace through my works. I come to you through Christ because He is righteous, sinless – and I come to You through Jesus, my Lord."
When you have that kind of faith God no longer sees you. He sees Christ in you. He no longer sees the "old sinful man", the one who died when you became a new creature in Christ, (2 Cor 5:17). No, God sees only one man: man in Christ. And as Jesus is in glory, so are we also in this world – redeemed, justified and freed.
Are you worried? tired out? scared? Are you condemning yourself? If so, you do not have to live in guilt anymore. If you have confessed your sins and believe in the sacrifice of the blood of Jesus Christ, your sins have disappeared – erased. You are justified
"There is no condemnation for those who are in Christ Jesus, who do not walk according to the flesh but according to the Spirit" (Romans 8: 1). God tells you: "I do not give you fear or condemnation. It is the devil that has given them to you. Release them by faith and say," Lord, I come to you through the blood of the Lamb. I am washed, purified, and I know that you love me ".
If you have done this, then Jesus rejoices in you, and God is satisfied with you. Here is what He says: "Come boldly in My presence  and  make me know your requests,  Ask widely, that your joy may be complete".
This is true peace!
Books on God's peace, ( as well as many other inspiring books, CD's Christian music and bibles) can be found by proceeding to the Family Christian Book Store Page.
TO RETURN TO LIST OF BLOGS – BLOG LIST
TO RETURN TO HOME PAGE –  HOME