Just before Jesus went  to the cross, in the upper room with his disciples, the Lord Jesus said these words." My peace I leave you".  He left us lasting peace.
The late  Dr. Billy Graham wrote an " epic" book at  the time of the start of his ministry, masterfully explaining how each and every person can find this peace through The Lord Jesus Christ.   This classic book, which I highly recommend was called Peace with God.22

In this book, as well as speaking at length of  peace with God , Dr. Graham addresses such issues as life after death, the nature of faith and the Christians  future hope.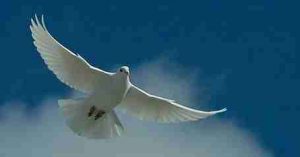 ==============
John 14: 27 – Peace I leave with you, My peace I give to you; not as the world gives do I give to you. Let not your heart be troubled, neither let it be afraid.
===========
All About God's Peace
Jesus said, "I leave you peace, I give you my peace". .  But the sad fact is that not all  Christians have discovered how to live in this sweet peace.   Some still have agitation in the he art – and live in fear!  Many  are afflicted in secret with panic, agitation and sleepless nights.  Christians should NEVER have need to fear this way!  Here is what the prophet Zachariah prophesied concerning the coming of the Messiah and the freedom from fear he would bring to us:
============
Luke 1: 75, 76 – To grant us that we, being delivered from the hand of our enemies,Might serve Him without fear, 75 In holiness and righteousness before Him all the days of our life.
============
That Is Why Jesus Came
Beloved, this is why Jesus came into the world and died for sinners; so that we could walk with God without fear, resting in His peace all the days of our life ! Every day of your life!   PEACE!
No fear, but peace in the mind and in the heart, every day of our life! This also applies to the days of suffering, agitation, trial and uncertainty. God intends us to have his peace in both happy and sad days. No matter what we have to face, we must be able to live in that peace at all times.
Zachariah added these words about Jesus: "To shine on those who lie in darkness and in the shadow of death, to guide our steps in the way of peace" (Luke 1:79). He was saying that Jesus would lead all His children in the path of peace – not in restlessness, in loneliness or in fear, but in peace!
Jesus is the Prince of Peace. At His birth the angels sang "Peace on earth …" His gospel is called the gospel of peace. And he himself promised as recorded in John chapter 16 …. "…
===============
John 16:33 – These things I have spoken to you, that in Me you may have peace. In the world you will have tribulation; but be of good cheer, I have overcome the world.
====================
Peace – Received Through The Gospel
It is PEACE that we receive through the gospel: In Acts 10:36 we read ….
=============
Acts 10:36 – The word which He has directed unto the children of Israel, proclaiming peace through Jesus Christ"
============
Also, the apostle Paul describes the acceptable way in which believers must serve Christ.  Compare your life with what Paul describes:…………….
============
Romans 14: 17 to 19 – For the kingdom of God is not eating and drinking, but righteousness, peace and joy in the Holy Spirit, for those who serve Christ in these things are pleasing to God and approved by men, so we seek to achieve the things that contribute to peace and mutual building.
=============
The Believers Trials

The scriptures clearly teach that in this world we will face tribulation, persecution and painful trials – "… fights outside, fears from within (2 Corinthians 7: 5).
We will be tempted, we will suffer for the love of Christ. The winds of adversity will try to shake the building of faith that we have built on the Rock of our salvation, which is Jesus the Lord.  But we ARE ABLE continue to serve Him with righteousness. Filled with peace and joy in the Holy Spirit – at all times. Paul's prayer for all believers was this………….
================
2 Thessalonians 3:16 – "May The Lord of peace himself give you peace always and in every way [or circumstance] The Lord be with you all!
================
Think about it! Peace in every circumstance!
I ask you: do you have peace in every circumstance? In every hour of the day are you filled with that absolute peace?
Here is a definition of peace: inner contentment, inner calm, serenity, tranquility, being free from any struggle, at rest, having calmness in the spirit.
Unfortunately, the world does not see this serenity in many of us. In times of crisis, many believers are not dominated by a calm, unperturbed spirit. Too often others see us struck by panic, worried and frustrated.
GOD'S PLAN – PEACE IN EVERY CIRCUMSTANCE
God's plan for His children is that we can live free of all anxieties and worries! We know this. We claim to believe it, and the Scriptures confirm it! But very few Christians have really entered that peace. Few are really free!
Here is what the Lord wants for us: This is written in the Book of Philippians 4:6 to 7 …..
==============
Philippians 4:6 to 7 – Do not worry about anything, but in all things make known your requests to God in prayers and supplications, accompanied by thanksgiving, and the peace of God, which overcomes all intelligence, will guard your hearts and your thoughts in Christ Jesus
==============
We can bring all our burdens and cares to God in prayer? I mean, really everything? I have often said that I go to God without asking him anything, but simply loving Him. But God invites us to go to Him by making him know all our requests. He is pleased to receive us! The blessing you receive after having made your prayers known is not that you come out of your room and see your prayer answered instantly – the sickness or anguish gone, and every problem solved.
Rather, it is your heart that changes because God has given you His peace
When we go to our room to pray, unloading the weights of our souls, crying and making known our requests to God – we leave OUR PRAYER ROOM, having received peace!  The disease may not have disappeared IMMEDIATELY – but WE OURSELVES have changed! Conflicts, fears, anxiety have disappeared.
Continue to Read – Jesus Is True Peace
Books on God's peace, ( as well as many other inspiring books, CD's Christian music and bibles) can be found by proceeding to the Family Christian Book Store Page.
TO RETURN TO LIST OF BLOGS – BLOG LIST
TO RETURN TO HOME PAGE –  HOME