Trust In God Who Loves To Bless
The lovers of The Lord Jesus can surely trust in God to do good to us all.  Paul wrote this to his son in the faith Timothy:
1 Tim 6:17– Teach those who are rich in this world not to be proud and not to trust in their money, which is so unreliable. Their trust should be in God, who richly gives us all we need for our enjoyment.
God is a good God. Our wonderful God is NOT some " cosmic killjoy in the clouds". He is generous and gives things richly for us to enjoy.
A Beautiful World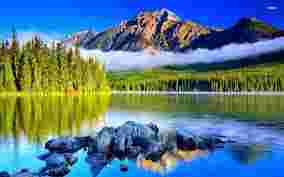 The song of the birds, the smell of flowers and new cut grass.  The majestic grandeur of lofty mountain peaks.  The peace and stillness of the shades of night.  The refreshing rain.  The awe of thunder and the soft kiss of the breeze.  Our  world is indeed a beautiful world that comes from the hand of " the God who has given us ALL things RICHLY to enjoy!
God is Love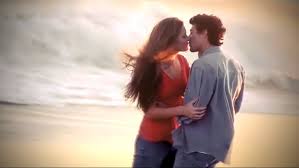 The joy of human love, parental love, brotherly love, sexual love with our wife and husband, the joy of eating and drinking and fellowshipping and laughing with friends.  GOD IS LOVE and All these gifts have their source in him.  He gives us the power to love and Oh, so many blessings he has given to us!  Maybe you would care to share some of God's wonders you enjoy?
The Abundant Life
And riches too. We can trust in  God who loves to bless with prosperity as well.    Riches are not sinful in themselves. It is only the excessive LOVE of riches when it comes between us and  our love for God is sinful. God desires we live in the abundant life.  Although this abundance is mainly spiritual let's remember that God made Abraham, Joseph, Solomon and many others rich. In fact the bible says, "you shall remember the LORD your God, for it is He who is giving you power to make wealth (Deut 8:18).  Perhaps you would like to get back to me and share with me how God has blessed you financially?
However we must remember that riches cannot be trusted in! One moment they can be here and the next they can disappear. Remember the recent international bank "crash"?  Twenty five years ago even Christians laughed me to scorn when I prophesied that one day the banks would go bust. But they did! God want's us to know that we DO HAVE security but our only real security is in Jesus who has promised to meet all our needs if we put him first, (Matthew 6:33).
One final verse to bless you – He who did not spare His own Son, but delivered Him up for us all, how shall He not with Him also freely give us all things?(Rom 8:32)
God bless you my friend.   I hope this short encouragement has blessed you.  I would LOVE to receive a comment from you.  Alternatively you can contact me on my contact page.  
RETURN TO – Bible Teaching Articles – Look up Bible Study Topics
OR RETURN TO HOME PAGE – Jesus Christ Is the Way, The Truth and The Life
OR CONTACT ME WITH YOU QUESTIONS, COMMENTS ETC.   AT  – Contact Marcus.
I would love to hear from you!